Executive Summary
Microsoft is investigating a report of a publicly exploited vulnerability in Internet Explorer. This advisory contains information about which versions of Internet Explorer are vulnerable as well as workarounds and mitigations for this issue.
Our investigation so far has shown that Internet Explorer 5.01 Service Pack 4 on Microsoft Windows 2000 Service Pack 4 is not affected, and that Internet Explorer 6 Service Pack 1 on Microsoft Windows 2000 Service Pack 4, and Internet Explorer 6, Internet Explorer 7 and Internet Explorer 8 on supported editions of Windows XP, Windows Server 2003, Windows Vista, Windows Server 2008, Windows 7, and Windows Server 2008 R2 are affected.
Security Advisory 979352 Released - The Microsoft Security Response Center (MSRC)


追記
Googleへのサイバー攻撃はIEの脆弱性を悪用――McAfeeが調査 - ITmedia News
Microsoft Security Advisory: Vulnerability in Internet Explorer could allow remote code execution
We have also created an application compatibility database that will enable Data Execution Prevention (DEP) for all versions of Internet Explorer. You do not need this database if you are using Internet Explorer 8 on Windows XP Service Pack 3 (SP3) or on Windows Vista SP1 or later versions. This is because Internet Explorer 8 opts-in to DEP by default on these platforms.
お仕事早いなぁ。XP SP3 上の IE8 はもともとDEP有効だから不要だけど、それ以外でVista以前のOSではFix itでDEP有効にしてねんってことか。
Googleへの攻撃にIEのゼロデイ脆弱性、MSがアドバイザリを公開 - INTERNET Watch
IEに脆弱性--米国企業へのターゲット型攻撃に悪用される - CNET Japan
またユーザーは、オンライン攻撃を軽減するデータ実行防止(Data Execution Prevention:DEP)機能も有効にしておくべきだという。DEPは、IE8ではデフォルトで有効になっているが、それ以前のバージョンでは手動で有効にする必要がある。
あれ?Vista以降でもIE8以外はDEP有効じゃないんだ。(滝汗
APPLIES TO

 ・ Windows Internet Explorer 7, when used with:
  o Windows Server 2008 Datacenter without Hyper-V
  o Windows Server 2008 Enterprise without Hyper-V
  o Windows Server 2008 for Itanium-Based Systems
  o Windows Server 2008 Standard without Hyper-V
  o Windows Server 2008 Datacenter
  o Windows Server 2008 Enterprise
  o Windows Server 2008 Standard
  o Windows Web Server 2008
  o Windows Vista Business
  o Windows Vista Enterprise
  o Windows Vista Home Basic
  o Windows Vista Home Premium
  o Windows Vista Ultimate
  o Windows Vista Enterprise 64-bit Edition
  o Windows Vista Home Basic 64-bit Edition
  o Windows Vista Home Premium 64-bit Edition
  o Windows Vista Ultimate 64-bit Edition
  o Windows Vista Business 64-bit Edition
  o Microsoft Windows XP Professional
  o Microsoft Windows XP Home Edition
  o Microsoft Windows XP Professional x64 Edition
  o Microsoft Windows Server 2003, Datacenter x64 Edition
  o Microsoft Windows Server 2003, Enterprise x64 Edition
  o Microsoft Windows Server 2003, Standard x64 Edition
  o Microsoft Windows Server 2003, Web Edition
  o Microsoft Windows Server 2003, Standard Edition (32-bit x86)
  o Microsoft Windows Server 2003, Enterprise Edition (32-bit x86)
  o Microsoft Windows Server 2003, Datacenter Edition (32-bit x86)
  o Microsoft Windows Server 2003, Datacenter Edition for Itanium-Based Systems
  o Microsoft Windows Server 2003, Enterprise Edition for Itanium-based Systems
 ・ Microsoft Internet Explorer 6.0, when used with:
  o Microsoft Windows XP Professional
  o Microsoft Windows XP Home Edition
  o Microsoft Windows XP Professional x64 Edition
  o Microsoft Windows Server 2003, Datacenter x64 Edition
  o Microsoft Windows Server 2003, Enterprise x64 Edition
  o Microsoft Windows Server 2003, Standard x64 Edition
  o Microsoft Windows Server 2003, Web Edition
  o Microsoft Windows Server 2003, Standard Edition (32-bit x86)
  o Microsoft Windows Server 2003, Enterprise Edition (32-bit x86)
  o Microsoft Windows Server 2003, Datacenter Edition (32-bit x86)
  o Microsoft Windows Server 2003, Datacenter Edition for Itanium-Based Systems
  o Microsoft Windows Server 2003, Enterprise Edition for Itanium-based Systems
 ・ Microsoft Internet Explorer 6.0 SP1, when used with:
  o Microsoft Windows 2000 Advanced Server
  o Microsoft Windows 2000 Datacenter Server
  o Microsoft Windows 2000 Professional Edition
  o Microsoft Windows 2000 Server

Microsoft Security Advisory: Vulnerability in Internet Explorer could allow remote code execution
マイクロソフト セキュリティ アドバイザリ (979352) Internet Explorer の脆弱性により、リモートでコードが実行される
JVNVU#492515 Microsoft Internet Explorer において任意のコードが実行される脆弱性 緊急
Internet Explorer 6の悪用事例を確認 (セキュリティ アドバイザリ 979352) - 日本のセキュリティチーム(Japan Security Team)


1/19 追記
Advisory 979352 Update for Monday January 18 - The Microsoft Security Response Center (MSRC)
ビデオ、英語でなに言ってんだかわかんね。(;´Д`)
Upgrade to Internet Explorer 8 to help protect your computer
XPだったらSP3当てて、とっととIE8に汁!って理解でおk?
独仏政府がIEの利用中止を勧告、「攻撃は限定的」とMSが反論 - ITmedia News
DEPを理由とするなら、XP SP3上の各ブラウザは全てDEP有効となっているから、"現時点"(先のことはわからないけど)PSIで脆弱性が表示されていないブラウザをとりあえず使っておくのもありかな?っと。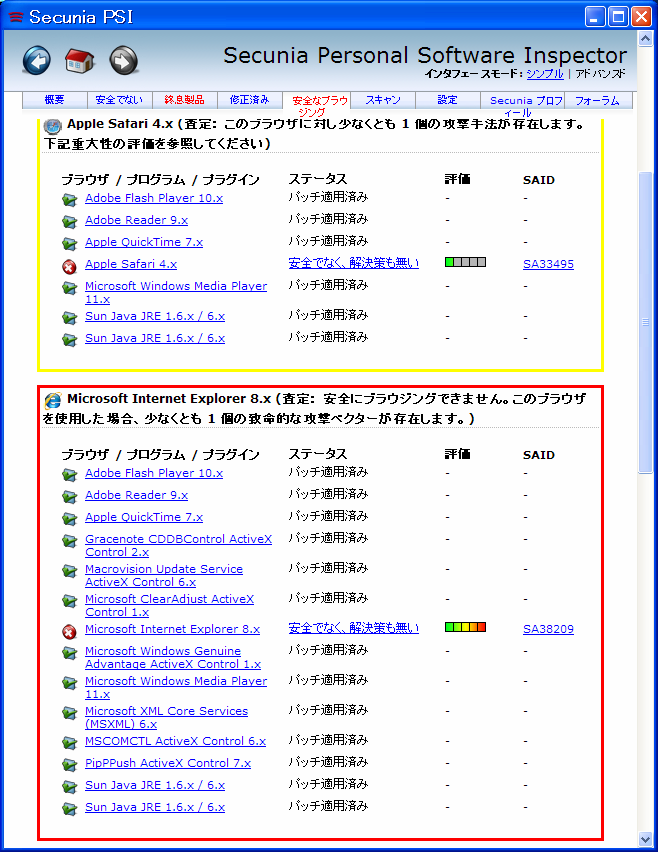 1/20 追記
Internet Explorerのセキュリティ更新を定例外リリースします - 日本のセキュリティチーム(Japan Security Team)
Security Advisory 979352 – Going out of Band - The Microsoft Security Response Center (MSRC)